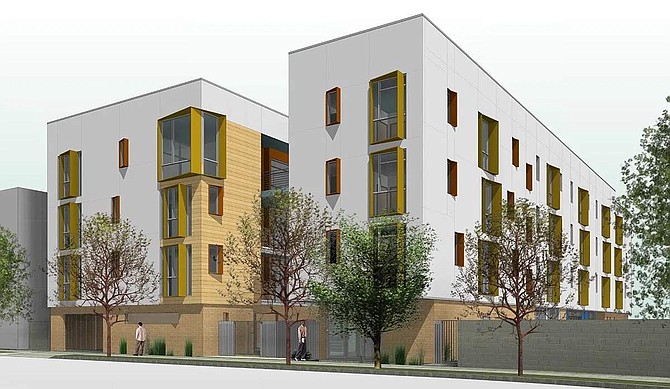 Construction on Casa Del Sol — a four-story, 44-unit affordable housing complex by nonprofit developer A Community of Friends — has wrapped up in Sun Valley.
Located at 10966 W. Ratner Street, the complex, which features two wings and a central courtyard, has been earmarked for formerly homeless senior citizens, according to Los Angeles County Housing Resource Center.  
Designed by FSY Architects, which is based near Glendale, the building features 43 studio and one-bedroom apartments as well as a two-bedroom unit for the building manager.  
The endeavor, which represents the first North Los Angeles site for Koreatown-based A Community of Friends, also includes a 3,500-square-foot community room and a 15-vehicle parking area.
Casa Del Sol is among the first county-supported developments to result from 2016's $1.2-billion bond measure Proposition HHH, which aimed to create some 10,000 supportive housing units. With a price tag of $21.8 million, Casa Del Sol received partial funding from HHH money.
The price would equal more than $495,000 an apartment. City Controller Ron Galperin last month issued a report saying the average cost of a unit built by HHH money is $559,000.
The project, which saw its ground-breaking on Dec. 10, 2018, reaches its finish line nearly five months behind its original opening date, which, according to the Housing Resource Center website, was supposed to be in May.
According to a 2018 report, apartment rents were pegged at $473 to $845 a unit.