A young nonprofit recently moved to Denton with a goal of filling the nutritional gap many Denton ISD children find themselves in over long weekends.
Lovepacs volunteers distributed packs of kid-friendly food ahead of Labor Day weekend.
Denton ISD continues to distribute five-day bundles of meals each Wednesday, but organizations like Lovepacs help families who need help during holiday weekends and school closures.
Volunteers in The Colony founded Lovepacs in 2011 to help kids who would otherwise go hungry over Thanksgiving break. The organization has since grown into 10 communities across Texas.
Denton's chapter of Lovepacs was founded just over two years ago, but the group is just now moving into its own space in town after sharing a building with the Little Elm chapter.
Nicol Fuller joined on as a volunteer right at its inception in 2018 after a friend and fellow volunteer learned about the Little Elm group.
She said the group spent the weekend moving into its new building at 719 Wainwright St. in Denton, the former site of The Breakroom.
Fuller was happy with the work the group was able to do while based in Little Elm, "but we've outgrown that space, and it's also really far for us to drive."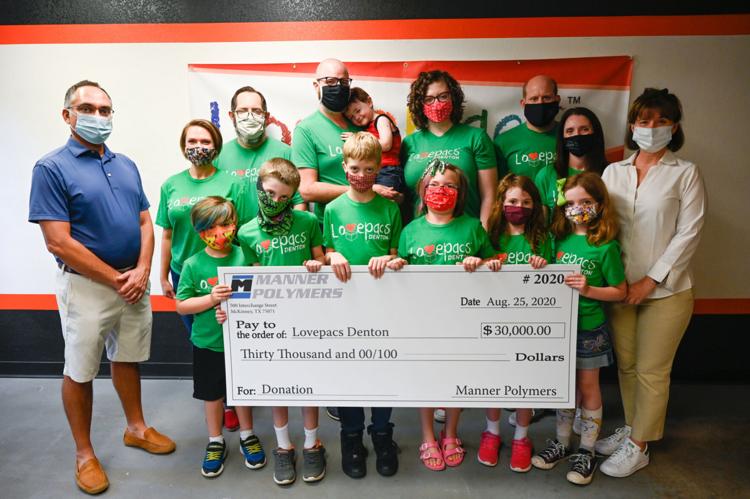 The move was financed in part by a $60,000 grant by McKinney-based Manner Polymers.
When she first started volunteering two years ago, Fuller said they were helping about 80 kids at two campuses. Now, she said the Denton chapter consistently serves somewhere around 275 students across 10 Denton ISD campuses with the highest need.
As of Sunday, volunteers were expecting to serve 350-400 kids over the upcoming Thanksgiving break.
She said the list of campuses they serve is confidential, and even volunteers don't know the students they're helping.
Volunteers gather up food and cash donations, pack food into bundles and coordinate with campus counselors to determine how many are needed for extended school closures. Volunteers then hand off the packs to counselors, who then distribute the meals discreetly.
"So we essentially don't know any of the kids we serve and we don't qualify them," Fuller said.
In practice, that means volunteers rely on counselors to reach out to kids in need without any formal application process on the nonprofit's part.
Fuller said they've been lucky so far to have roughly 80% of all the food they need donated directly. The group leans toward macaroni and cheese, canned vegetables, ramen, chunky soup and other things children can make for themselves if need be.
She said the assumption is that not all of the students will have somebody around to help them out during meals.
People wanting to donate can find drop boxes at local businesses scattered across town, including the Bearded Monk and Bearded Lady. Fuller recommended those wanting to get engaged follow the group's Facebook page for regular updates. To learn about making a donation or volunteering, visit www.lovepacs.org/denton.
MARSHALL REID can be reached at 940-566-6862 and via Twitter at @MarshallKReid.