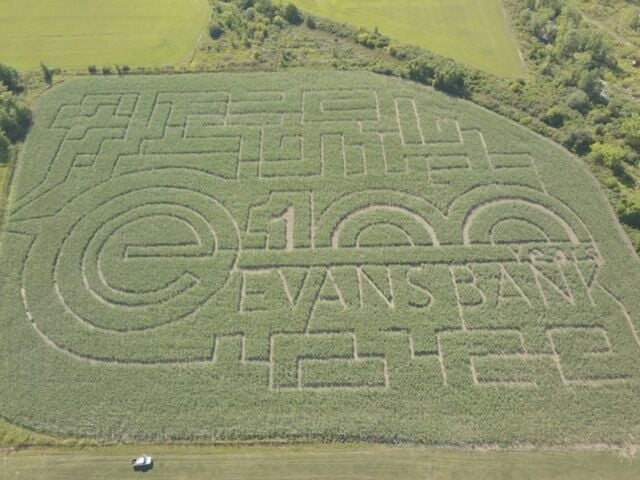 When Leanna Ohol saw the special logo Evans Bank created for its 100th anniversary, she had a reaction others didn't: That would make a great corn maze.
After planning and planting, the bank's logo has appeared inside a 12-acre field in the Town of Cambria. And Evans has a memorable way to celebrate its centennial.
Ohol is a retail sales support specialist at Evans. She and her husband, John, own Loho Farms in Cambria. Eight years ago, they started creating the Cambria Corn Maze on neighboring property they own. 
Over the years, the Ohols have carved different designs into the cornfield: their own dairy farm's logo, the Upstate Niagara Cooperative logo and a school bus, since Ridge Road Express is across the street. 
When Ohol saw the special logo Evans had in mind for 2020, something clicked.
"Just seeing the 'e,' I could just picture it in the middle of a cornfield," she said.
Ohol and her manager, Audrey Meyers, mentioned the idea to Chris Passarell, Evans' vice president of marketing.
"We were in a marketing meeting, and Audrey said, 'Leanna and her family own a corn maze,' and Chris' face just lit up," Ohol said.
The Ohols started planning for the maze in February, working with Don Watts, a Pennsylvania man known as the "Corn Maze Guy." Watts designed a maze based on the Evans logo, enabling the Ohols to plug the coordinates into a tractor's GPS.