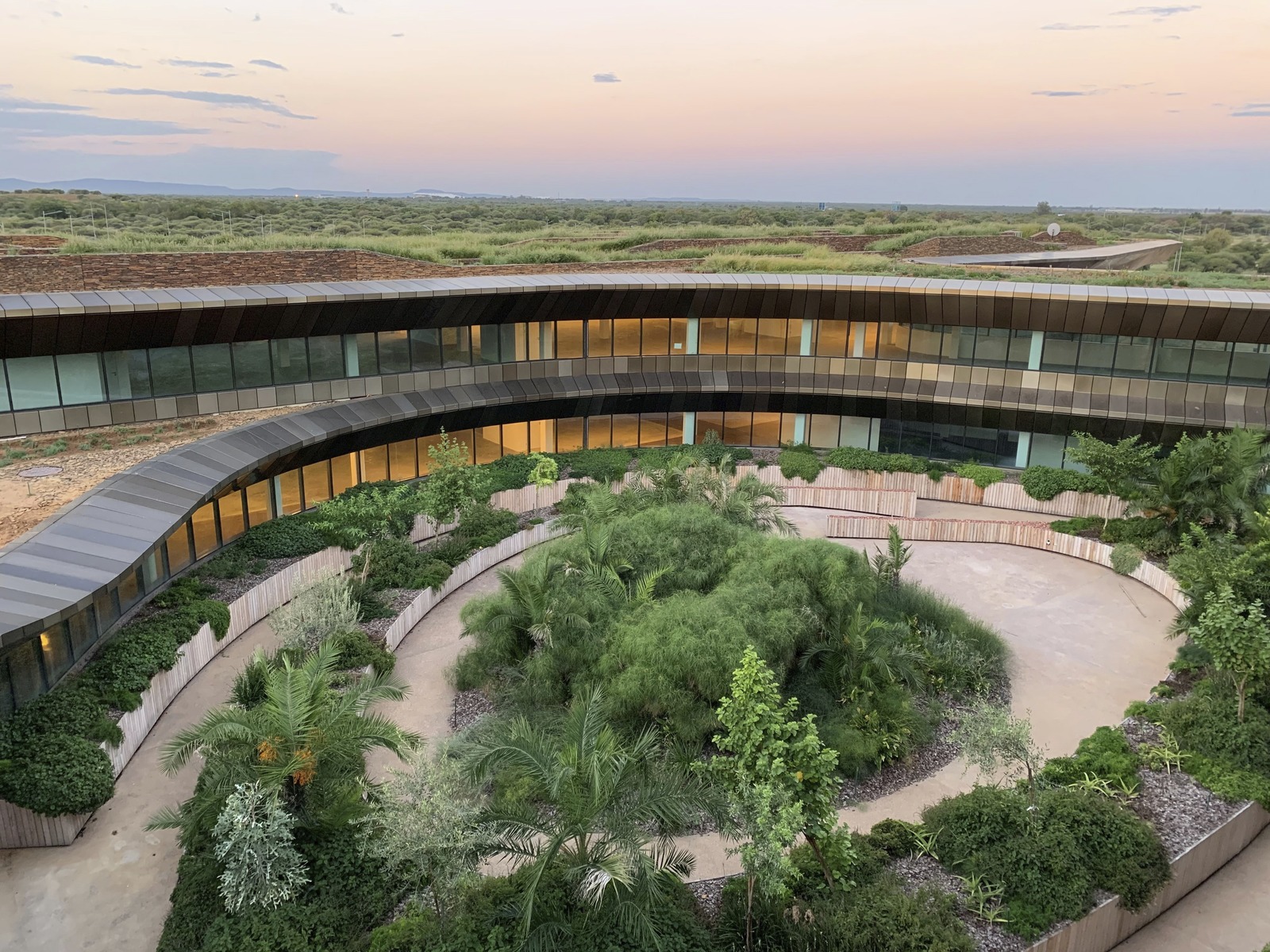 Africa has seen the ruin that resource riches can bring. In cities like Luanda in Angola and the South African metropolis of Johannesburg, glimmering corporate headquarters are often surrounded by shantytowns; sometimes the office towers themselves are abandoned once the commodities run out.
The nation of Botswana is trying not to fall deeply into that trap. Its economy relies heavily on diamond mining —  it's the home of the Jwaneng open-pit mine, the world's richest, which is run jointly with the U.K.-based De Beers Group. But the government is acutely aware that diamond mining is not forever. Unemployment and income inequality are a growing concern in this country of about 2.3 million people. Botswana doesn't dig up the number of carats it used to, and has set out to lure new investment beyond the minerals sector, which accounts for 80% of the nation's export earnings and is the biggest single contributor to government revenue. To do that, it's turning to an economic development tool familiar to cities around the globe — a technology and innovation hub, housed in a striking new signature building. 
Designed by the New York-based architecture firm SHoP, the $60 million Icon Building, which largely makes up the state-run Botswana Innovation Hub's science and technology park, is among the most expensive government-funded structures built since Botswana's independence from the U.K. in 1966. Seen from the air as one flies into the capital city, Gaborone, it's tough to spot — the building boasts what is unofficially the largest green roof in the region, according to SHoP, but in this semi-arid climate the foliage is usually more earthen in tone. Only at surface level does the stratified, low-slung structure come into focus, emerging from the ground like something from the cover of a Frank Herbert sci-fi novel.
Botswana has a lot riding on the project, which has already taken in tenants ahead of an expected completion in May. As in many African states, the nation's infrastructure, technology and policy gaps require "disruptive solutions," as the World Bank said in a 2017 report it co-authored on the concept of leapfrogging — something Africa accomplished with the mass adoption of mobile phone technology, skipping landlines altogether. "Squarely focusing on uncovering investment opportunities that could reduce the distance to the technology frontier should therefore be the starting point in thinking about African development," the paper's authors concluded.
That's roughly the concept Botswana's government had in mind for this new idea incubator. "The idea is to house partnerships and foster innovation for local startups," says Botswana Innovation Hub CEO Alan Boshwaen. "The building has specialized facilities for research and laboratories and other functionality to house collaboration."
To design a space that fosters such work, Botswana picked an architecture firm with deep experience in Silicon Valley-style workplaces. "We were entrenched in this innovation hub mentality," says SHoP founder Bill Sharples. Only a couple years before the government's design competition, SHoP penned office buildings for Google's Mountain View campus as well as the proposed new headquarters for the San Francisco-based ride-sharing giant Uber.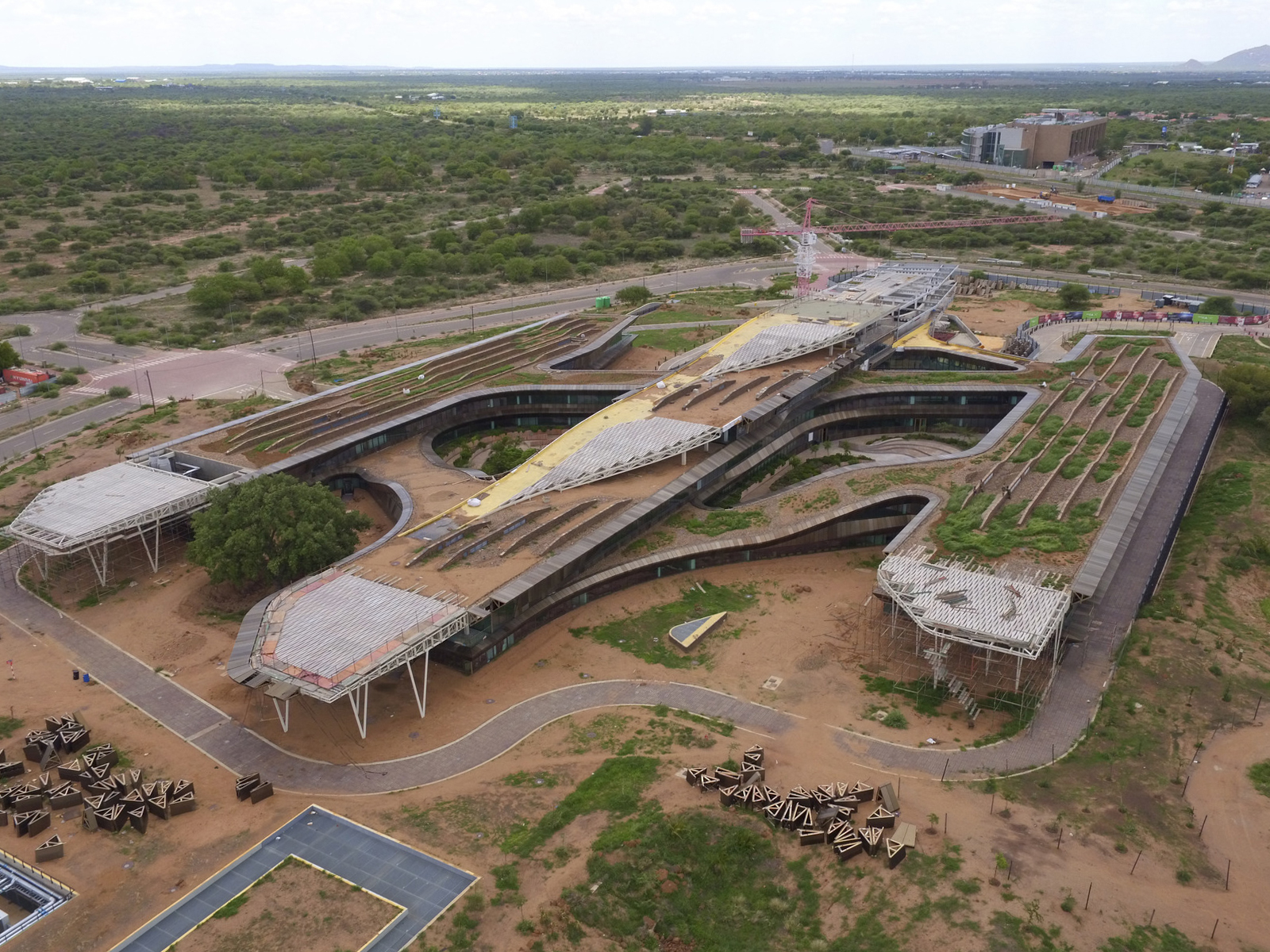 SHoP, which also designed the Barclays Center in Brooklyn for the NBA's Nets, applied that background to a concept that sought to adapt their American expertise to southern Africa. The hub features an abundance of outdoor spaces, including a leafy courtyard and an amphitheater, designed to promote collaboration. Local artisans were commissioned to incorporate traditional home-decoration patterns. It's a building designed with an often-torrid climate in mind: Self-shading components of the façade, glazed high-performance glass, and the green roof help keep the building cool. There have even been complaints in the summer that the building is too cold, said Steven Garcia, project director at the firm. "From the outset there was a real focus on a sustainability and performative aspect to the project."
During construction of the Barclays Center, the firm developed an iPhone app to scan and track through production and assembly stages. With this project an ocean away in Gaborone, they relied even more heavily on that technology, in concert with local architects, work crews and a fabricator in Cape Town that received and produced designs transmitted direct from New York. "To cut your teeth on a project that was $980 million, you're kind of like, 'If we can do that, let's see if we can scale that to a place like Botswana,'" Sharples said.
But the Icon Building hit a series of snags and construction delays. The discovery of a structural mistake paused construction, which brought on additional scrutiny from local legislators. Then the coronavirus closed borders and slowed progress down again. Tenants have now started moving in, including a mechanized mining company that intends to bring automated operations to the country.
Government officials maintain that the hub embodies a national priority of transforming the country into a knowledge-based economy. The Icon Building is also envisioned as draw for visitors — a departure from the more utilitarian mirrored-glass office blocks in Gaborone and other African cities that have signaled post-colonial progress. Future occupants will be key to reaching that goal. "What the building is doing, it's definitely is a catalyst,'' Sharples said. "This kind of collective, research, cross-pollination is still somewhat new territory. That even comes down to how do you lease this space." 
Where SHoP's building will fit into the greater fabric of Africa's contemporary architecture remains to be seen. New projects across the continent range from the sky-scraping Pinnacle Towers under construction in Nairobi — set to be the tallest in Africa — to the work of the prolific South African firm Paragon Group, such as its Brazilian modernism-inspired AFGRI head office building. Many are designed around efficiency — a critical feature in countries where power and water shortages occur regularly. In Addis Ababa, Ethiopia, for example, the Lideta Mercato by Spain's Vilalto Studio incorporates a host of innovative sustainability features, including solar panels and rainwater collection, into an indoor mall whose prefab concrete facade shields the building from the sun. As its cities expand, the hope is that the continent may be able to leapfrog to the latest green building practices.  
Botswana will be challenged to leave its legacy of diamond extraction behind. Built to symbolize the nation's future as a place that cultivates ideas rather than excavates a finite resource, the innovation hub is set to be a big part of that process. "The biggest frustration of this project is that it's not done yet,'' Sharples said. "What we're proud to say is that it was accomplished by local labor and local manufacturing — that's where the technology plays itself out in such a beautiful and poetic way."
— With assistance by Mbongeni Mguni