The BDC sector has been one of the harder-hit areas since the beginning of the pandemic, and has not yet recovered. The BDC company that I'm focused on today, Golub Capital BDC (GBDC), is a well-recognized company in the space for its sound management practices. In this article, I evaluate what makes the stock an attractive long-term investment. So, let's get started.
A Look Into Golub Capital BDC
Golub Capital BDC is a leading externally managed company that specializes in middle-market lending. The company was founded over 25 years ago, and today, it has over 500 employees with offices in Chicago, New York, and San Francisco. In September 2019, GBDC merged with Golub Capital Investment Corporation, making it the fifth-largest externally managed, publicly traded BDC. At the time of the merger, management estimated that the transaction was 4.5% accretive to GBDC's NAV (net asset value). Today, GBDC has an investment portfolio worth $4.25 billion at fair value and is spread across 254 investments.
What I like about GBDC is its focus on portfolio safety and diversification. Currently, 97% of its loan portfolio is comprised of first-lien debt, and the average investment size is less than 0.4% of the portfolio. GBDC also uses what it calls First-Lien "One Stop", which is its nomenclature for describing unitranche debt. For reference, unitranche debt represents a hybrid loan structure that combines senior debt and subordinated debt into one loan.
While some may view this type of debt as being riskier, due to the full exposure on the entire debt stack, I see it as giving GBDC an advantage in having more sway over its portfolio companies, with it being the sole lender. This form of loan also provides simplicity to its portfolio companies and puts GBDC in a better competitive position against competing lenders.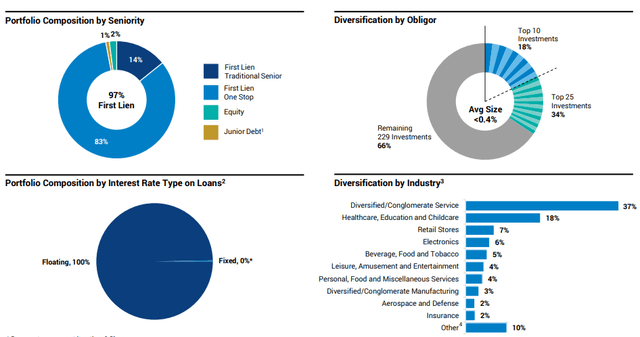 (Source: August Investor Presentation)
Like for many other BDCs, COVID-19 has presented the company with its share of risks and challenges. This was evident in the sequential 12% drop in NAV/share that the company saw in Q2'20 (quarter ended March 30th). While NAV/share appeared to drop again in the latest Q3'20 results (quarter ended June 30th) to $14.05 per share, a little bit of digging shows that the drop was actually due to a rights offering (more on that later) rather than a deterioration of its loan portfolio.
As seen below, if we were to add back the $1.13 per share drop in NAV/share related to the rights offering, NAV/share would have increased by 3.8% quarter over quarter. I see this as being a step in the right direction, as it shows the resiliency of the portfolio. In addition, I'm encouraged to see that the percentage of what management defines as at-risk investments (internal performance rating of 3 or below) declined sequentially, from 28.5% to 24% of the total portfolio in the latest quarter.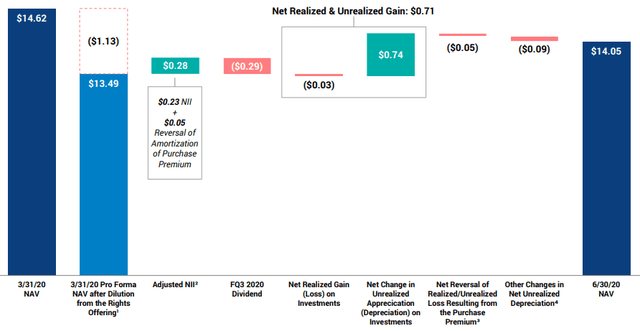 (Source: August Investor Presentation)
With regard to the rights offering, this took place last year and represented an opportunity for existing shareholders (at time of offering) to acquire one share of GBDC at the price of $9.17 for every four shares that they owned. While this had a dilutive effect of the NAV, the existing shareholders who exercised this transferrable right got the benefit of reducing their cost basis. As a positive sign of confidence, the rights offering was oversubscribed by the shareholder base and had the effect of helping the company to strengthen its balance sheet.
Turning to the balance sheet, management has continued its deleveraging efforts. As seen below, GBDC's GAAP leverage is at just 0.86x, with a regulatory leverage of less than 0.75x. In addition, it also recently amended its credit facility with Morgan Stanley, thereby increasing its long-term borrowing capacity from $200 million to $400 million. At present, GBDC has $435 million in available cash and borrowing capacity. I see this as being a key benefit, as it allows the company to take advantage of attractive opportunities where they may arise during this recession.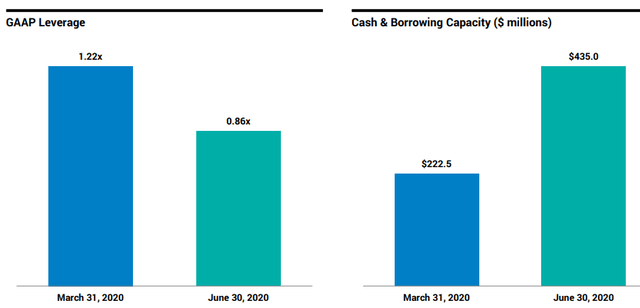 (Source: August Investor Presentation)
One of the risks that income investors should be mindful of is that the newly set quarterly dividend rate of $0.29 per share dividend is slightly undercovered by NII (Net Investment Income). Adjusted NII for the latest quarter was $0.28, which translates to a 96.5% dividend coverage ratio. This is something investors should watch for in future quarters. Management, however, sounded optimistic on the current dividend rate during the last conference call (emphasis added by author):
"And ultimately, in this period of unprecedented uncertainty, nobody can be sure of much. But I think we're on the right track toward focusing on restoring unrealized losses through unrealized gains and in the process, increasing our NAV per share and getting to a point where the $0.29 is a level that's not only sustainable, but that we can build upon over time."
Lastly, I'm impressed by GBDC's track record of preserving its NAV per share. As the graph below doesn't show actual numbers, I did a bit of digging and found that NAV/share was $15.89 at December 2015, which compares favorably with the NAV/share of $15.95 at June of 2019 (pre-merger). The NAV/share has since risen to $16.66 (post-merger), before falling to $14.05 at present.
However, I'm willing to give management a pass, as the recent fall was due to the effects of the pandemic, by which all BDCs have been impacted, and the effect of the rights offering, which strengthened the balance sheet and reduced the shareholders' cost basis.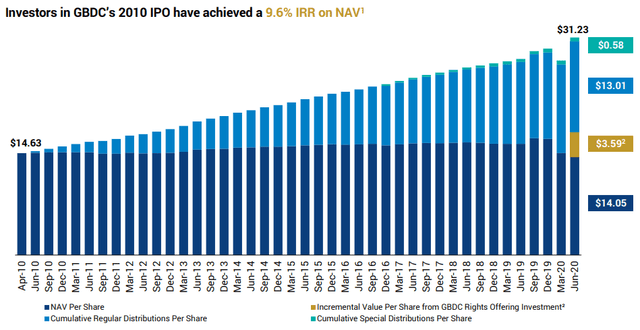 (Source: August Investor Presentation)
Investor Takeaway
GBDC is a leading BDC company with a track record of sound management practices. While COVID-19 has been a headwind for the company, I see encouraging signs of a rebound in its overall loan portfolio. Going forward, I see GBDC as being able to take advantage of depressed asset prices with its strong balance sheet. I'm also impressed by management's track record of NAV preservation before the pandemic, and expect that to continue going forward.
I see GBDC as being undervalued at the current price of $12.90 per share, which represents a Price-to-NAV ratio of 0.92. I see this discount as being unwarranted, as GBDC has generally traded at a premium to NAV before the pandemic. Management appears to agree with this sentiment. As seen below, both the chairman and CEO have aggressively purchased shares since August.

(Source: Open Insider)
As such, I see a 9% upside for the share price if the shares trade at a 1.0x Price-to-NAV ratio. This, combined with the current dividend yield of 9%, translates to an 18% one-year total return potential.
Disclosure: I/we have no positions in any stocks mentioned, but may initiate a long position in GBDC over the next 72 hours. I wrote this article myself, and it expresses my own opinions. I am not receiving compensation for it (other than from Seeking Alpha). I have no business relationship with any company whose stock is mentioned in this article.