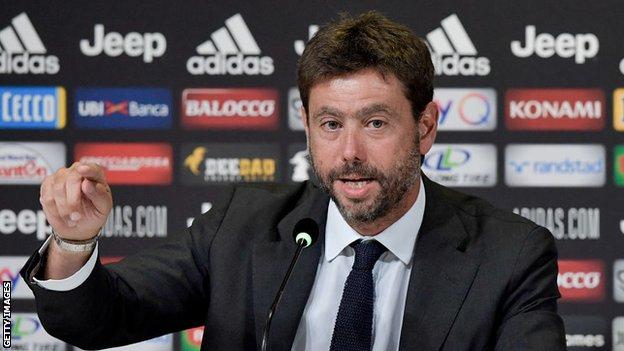 Europe's clubs will lobby Uefa to bring back five substitutes per game in the group stages of this season's Champions League and Europa League.
World governing body Fifa has given individual competitions the green light to continue with the move, aimed at reducing the burden on players in a season that has been cut by four weeks because of the impact of Covid-19 on 2019-20's fixture calendar.
The Premier League has already voted to return to three substitutes. However, while Uefa has done the same for the qualifying rounds of their competitions, European Clubs' Association (ECA) chairman Andrea Agnelli feels a move back to five substitutes would be fairer on the players.
"Between October and Christmas, leading players will play every three days for three months," said Agnelli.
"We hope Uefa will listen to us, as they normally do about the health of players. We need a consistent and harmonised style of play given the congested calendar.
"Germany and France have voted for five substitutes already, Spain is turning around their decision and Italy has voted in favour of five substitutes. In England, a majority of clubs voted in favour also but they needed a qualified majority of 14."
The move potentially puts England boss Gareth Southgate at a disadvantage given there will be fewer opportunities to give key players a break within matches compared to every other country in Europe.
It is just one of the issues clubs and associations continue to wrestle with as they try to counter the effects of a global pandemic.
Another is the absence of fans from stadiums, although Uefa is hoping up to 20,000 are able to attend the Super Cup between Bayern Munich and Sevilla in Budapest on 24 September.
It will be another step towards some kind of normality, although the ECA's estimate of a 4bn euros (£3.62bn) loss for the European game across the two seasons covering 2019 to 2021 does include fans returning to stadiums at some point this season.
ECA's chief executive Charlie Marshall said the matter had been discussed at length during its general assembly on Tuesday.
"Some countries feel very far away from having fans," he said. "But at the same time, Switzerland have announced they expect to allow 65% in stadiums in the near future.
"We remain cautious and forward-looking and think during this season fans across Europe will find their way back into stadiums at 40-50% of capacity on average."
Uefa president Aleksander Ceferin gave a positive address, saying: "We cannot say everything is normal, but it will be normal soon."
However, Agnelli feels the full economic impact will not be known until next summer and outlined some bleak projections.
He claims European governing body Uefa will lose about 575m euros (£519m) in income after last season's Champions League, Europa League and Women's Champions League formats were amended to single-tie formats from the quarter-finals onwards.
While he accepted Chelsea were an exception – calling them "one buyer who wasn't allowed to spend much during the last couple of windows but has happened to be active during this sale process" – Agnelli said he expected the transfer market to contract by 20-30% before the window closes on 5 October.
He said clubs remain in "crisis management" mode as games in empty stadiums, rebates to broadcasters and reduced sponsorship will continue to cause financial pain.
Agnelli added: "I fear some of the big clubs will suffer losses on their own that are bigger than some of the confederations will lose across the world. The vast majority will bear deep scars from this crisis."